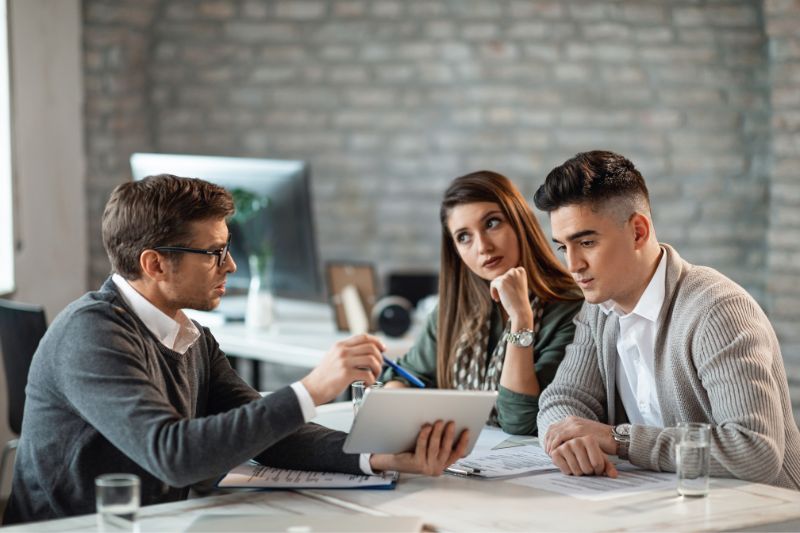 It's time to ask for financing. What a roll! Where do you start? Will the bank need something specific? Wait… Shall I ask the bank for financing?
And all this resulted from the lack of liquidity… What a mess! But you trust your business, and you want your dream to continue.
Well, a financial adviser can help you and even anticipate everything so that you do not have to request financing due to a lack of liquidity. 
Now we tell you
What does a financial adviser do?
Roughly speaking, and before going into detail, a financial advisor is that profile that will help you manage your economy and finances. Yes, he will be there when you need to figure out where to go or what decision to make.
As a professionally trained in economics and with the personal experience that precedes him, a financial advisor can help you with issues such as the liquidity of your business, the management of income and expenses, and the financing that helps maintain it. 
For example, we have extensive experience in financial advice for our freelancers, and we have automated processes, so you don't have to worry about a thing. During the article, you will see them.
Scope of action of financial advisors
Yes, it is true that each business requires a type of advice and has its difficulties. Still, it is also true that, as a general rule, there are typical problems in most projects that are the ones that most attract the attention of financial advisors… 
Let's see what they are:
Liquidity
We start with liquidity because it is the area that is affected the most by all the other areas. In other words, any problem with income, expenses, turnover, or financing leads to a liquidity problem.
This makes it one of the primary headaches for freelancers. But it is expected that the livelihood of the business depends on it. Therefore, anticipating if you will have liquidity problems allows you to take measures to turn the situation around. 
Some of these measures, for example, can be lowering prices, requesting a loan, renegotiating with suppliers, getting discounts for customers to pay you earlier, and much more. 
And at this point, the financial adviser enters. This expert person knows your income, assets, and needs, which allows him to know that in 60 days, there will come a point where you will not have money in the bank, for example.
At that time, the adviser is in charge of advising and helping you with the measures to take. The more you anticipate, the more margin you will have to avoid it.
Plus, they can manage the accounts on your behalf, so you don't have to worry about anything.
Income
There are three determining factors related to revenue: collection terms, pricing, and diversification.
With this in mind, your advisor will analyze your accounts and take action, if necessary, to keep things running smoothly.
We have developed our bankruptcy probability calculation model based on how many clients the self-employed person has (high dependency because they have few clients or little dependency because they have many) and if they buy more or less frequently.
Based on these two variables, through 2 personalized tips, we indicate the risk of bankruptcy and guide you to improve that risk:
How many new clients should you get (so you can try new paths if you need to)

If you increase recurrence, make them buy more from you (specific offers, selling other services or complementary products…)
Undoubtedly, one of the keys to having a financially healthy business is to have a good collection and payment term structure, seeking to collect as soon as possible and pay as late as possible. 
For this reason, we have wanted to put our efforts into helping the self-employed.
Bills
The two problems that stand out in the expenses for the self-employed are the deductibility of expenses and the negotiation with suppliers.
As you know, there are more than 100 deductible expenses for a self-employed person, and making the most of them can be the key to making the business profitable thanks to paying fewer taxes.
For this reason, going back to what we know, we have enabled a deductible expense analysis functionality where you can add the expense. It tells you if it is deductible, depending on your specific case.
This is possible because analyzing all the income and expenses you uploaded to the platform is automated.
It is a potent tool to know if that expense helps your business.
In addition, tips will appear on your profile that will allow you to deduct expenses that you forgot or did not know could be deducted.
Financing
There are two reasons why financing is usually needed: to avoid liquidity problems and to finance investments.
If you want to finance liquidity problems when they arrive, forget about it, the bank will slam the door, and fast financing companies often take advantage of the moment to add interest.
In addition, requesting a loan being autonomous from a bank takes work. The granting of a loan depends on many factors, but a super important one is the staff.
Without the background or background in finance, it isn't easy to communicate verbally and with documentation what your business needs. That's where the financial adviser comes in.
But before arriving at the bank, your advisor must make treasury forecasts (which also), but understand your business well and calculate a financial concept known as the NOF (operational financing needs). 
To understand better, NOF is the money you need to grow. This money, once again, depends on your average collection terms and your average payment terms.
Learn more: Tips when requesting financing for freelancers.
As you have seen, we have personalized advice depending on each case, which is automated to advise you best, and an expert is assigned to accompany you on the road.
How much do financial advisors cost: What salary
There is a misconception about financial advisers. 
When you hear it, you always think: oysters, that's for big brands, it's sure to be very expensive. But no, the reality is that there are financial advisors for all audiences, just like in the movies. In the next section, we analyze them in more depth.
And yes, the salaries are as varied as there are professionals. In addition, depending on your needs, it will have one cost or another. 
The important thing is that if you want it, there is one for you.
As we always say, it is time to compare and choose the best suits your needs.
How to choose the best financial advisor
As we have advanced, there are different types of financial advisors.
You can choose from the advisor your bank offers you, usually for free but may be biased, an independent advisor or an advisory with automated mechanisms and a large team of background experts (many thinking minds).
It is also essential to note that the independent or advisory advisor, unlike the banks, does not charge commissions for the products it sells but instead receives a fixed salary from the client it advises.
This may facilitate your decision and help unbalance the scales. The independence of the adviser is also essential.
Also Read : Five Customer Communication Tips And Techniques