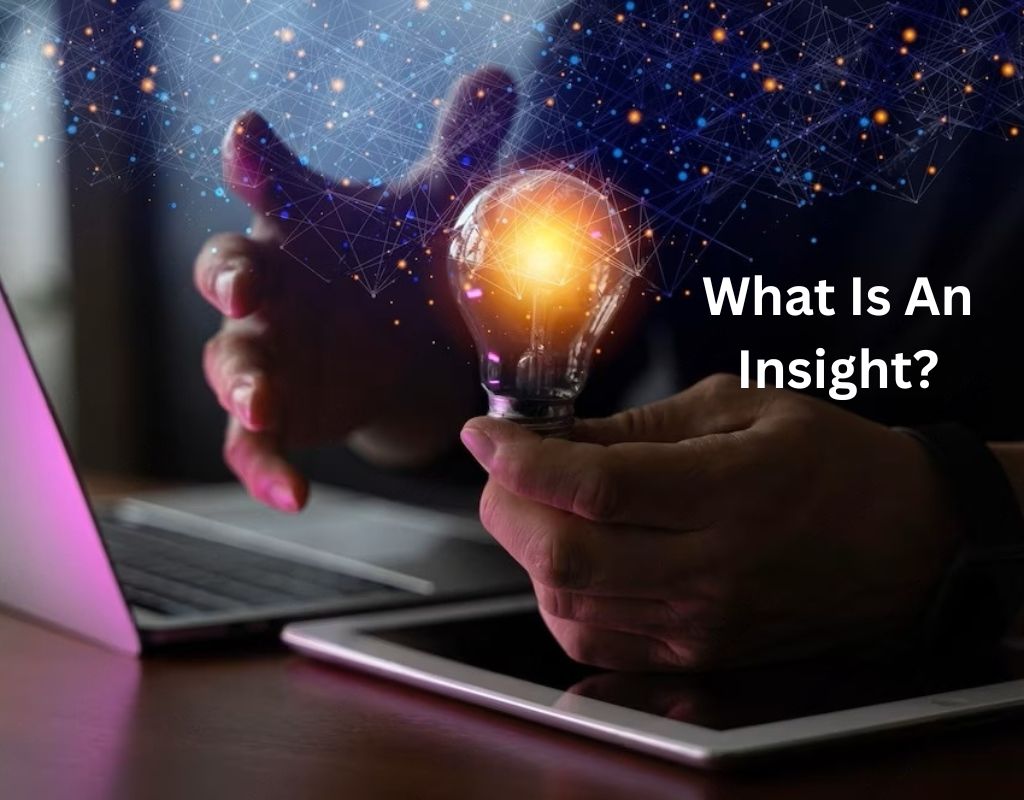 What is an insight
An insight is a deep and often sudden understanding, realization, or perception of a particular situation, problem, or concept. It typically involves gaining a new or profound understanding that was not immediately obvious or apparent. Insights can occur in various areas of life, including personal experiences, problem-solving, scientific discoveries, creative endeavours, and more.
Various factors can spark insights, such as careful observation, critical thinking, introspection, or a fresh perspective. They often lead to a shift in one's perspective or thinking and can be instrumental in solving complex problems, making informed decisions, or generating innovative ideas.
An insight is a moment of clarity or enlightenment that allows an individual to see something in a new and often valuable way, leading to a deeper understanding of a subject or situation.
What is not an insight?
What is not considered an insight includes:
Common Knowledge: Information or understanding widely known and accepted by a large portion of the population is not typically considered an insight. Insights tend to involve novel or less apparent perspectives.
Surface-Level Observations: Simple and readily apparent observations or facts that don't involve a more profound understanding or a shift in thinking are not insights. Insights often require a more profound level of understanding or connection between ideas.
Trivial or Obvious Realizations: Discoveries or realizations that are trivial, obvious, or lack significant implications are not considered insights. Insights typically have a meaningful impact on one's understanding or how they approach a problem.
Routine or Repetitive Thinking: Recurring thoughts or ideas that do not lead to a new understanding or perspective are not insights. Insights are characterized by their ability to provide fresh insights or perspectives.
Prejudice or Bias: Beliefs or judgments based on prejudice, bias, or stereotypes are not considered insights. Insights should be grounded in rational and objective analysis rather than emotional or irrational thinking.
Misconceptions: Misunderstandings or incorrect beliefs are not insights, as they represent a lack of understanding rather than a profound realization.
Superficial Analysis: Shallow or cursory analyses that do not delve into the underlying causes or mechanisms of a problem or situation do not qualify as insights.
In essence, insights involve a more profound understanding, novelty, and meaningful impact than common knowledge, surface-level observations, or routine thinking. They often lead to breakthroughs in knowledge, problem-solving, or creativity.
How to find the insight you need
Finding the insight you need often involves a combination of careful observation, critical thinking, exploration, and sometimes a bit of creativity. 
Here are steps to help you discover the insights you're seeking:
Define Your Objective:
Defining your objective involves articulating the problem or question you aim to tackle. Clarity and specificity are essential, as this step sets the direction for your efforts in seeking meaningful insights.
Collect Information:
Collect relevant data, information, and background knowledge related to the problem or question. This could involve research, surveys, interviews, or data analysis.
Observe and Analyze:
Observation entails examining the context-seeking nuances, patterns, and deviations. Meanwhile, analysis involves scrutinizing collected data and information for connections, trends, and correlations. This step is vital in uncovering hidden insights and understanding the underlying dynamics of the problem or situation.
Question Assumptions:
Challenge your assumptions and preconceived notions about the problem. Sometimes, insights come from questioning generally maintained assumptions.
Seek Different Perspectives:
Collaborate with others and seek diverse viewpoints. Different people may offer unique insights based on their experiences and expertise.
Brainstorm and Ideate:
Brainstorming and ideation involve creative sessions where you generate many ideas and potential solutions. Techniques like mind mapping or concept mapping help visualize and structure these thoughts. This process encourages diverse thinking and often leads to innovative insights, expanding your perspective on the problem.
Step Away and Reflect:
Stepping away and reflecting means temporarily disengaging from active problem-solving. Allowing your mind to wander, even during breaks, can lead to unexpected insights, giving your subconscious the space to process information and make connections independently.
Experiment and Test:
Experimentation involves putting hypotheses or solutions arising from insights into action. This systematic testing process, conducted in a controlled setting, assesses whether these ideas yield the anticipated outcomes. It validates the practicality and effectiveness of your insights.
Keep a Journal:
Keeping a journal involves documenting your thoughts, observations, and insights. Monitoring your journey is a valuable record, ensuring you don't lose critical discoveries. This practice facilitates reflection, learning, and revisiting past insights.
Be Patient:
Patience is essential in the pursuit of insights. They often require time and sustained effort, particularly for intricate issues. Remaining patient allows for thorough exploration and more profound understanding, increasing the likelihood of uncovering valuable insights that may initially be elusive.
Learn from Failure:
Failure should not deter you; instead, it should be seen as a source of valuable lessons. By analyzing setbacks critically, you can extract insights that may guide you towards more effective approaches and solutions, fostering growth and resilience in the face of challenges.
Stay Open-Minded:
Maintaining an open mind is crucial. Valuable insights often originate from unconventional or unexpected ideas. Embracing diverse perspectives and creative thinking can lead to breakthroughs and innovative solutions that may not have been apparent within the confines of conventional thought.
Seek Inspiration:
Seeking inspiration involves exploring relevant literature, articles, or case studies related to your problem. Learning from the experiences and solutions of others can spark fresh ideas, offer new insights, and provide valuable guidance in addressing your challenges.
Engage in Continuous Learning:
Engaging in continuous learning means actively acquiring knowledge and skills in pertinent fields. This ongoing education broadens your expertise, making you better equipped to recognize and leverage meaningful insights, as a deeper understanding often leads to more profound revelations.
Finally 
These insights can vary in nature and depth and may come at different stages of your problem-solving process. Following these steps and maintaining a curious and open-minded approach increases your chances of finding the insights you need to make informed decisions, solve complex problems, or gain a deeper understanding of a subject.
Also Read : Customer Motivation: Aspects To Consider