How To Handle The Winter Behind The Wheel?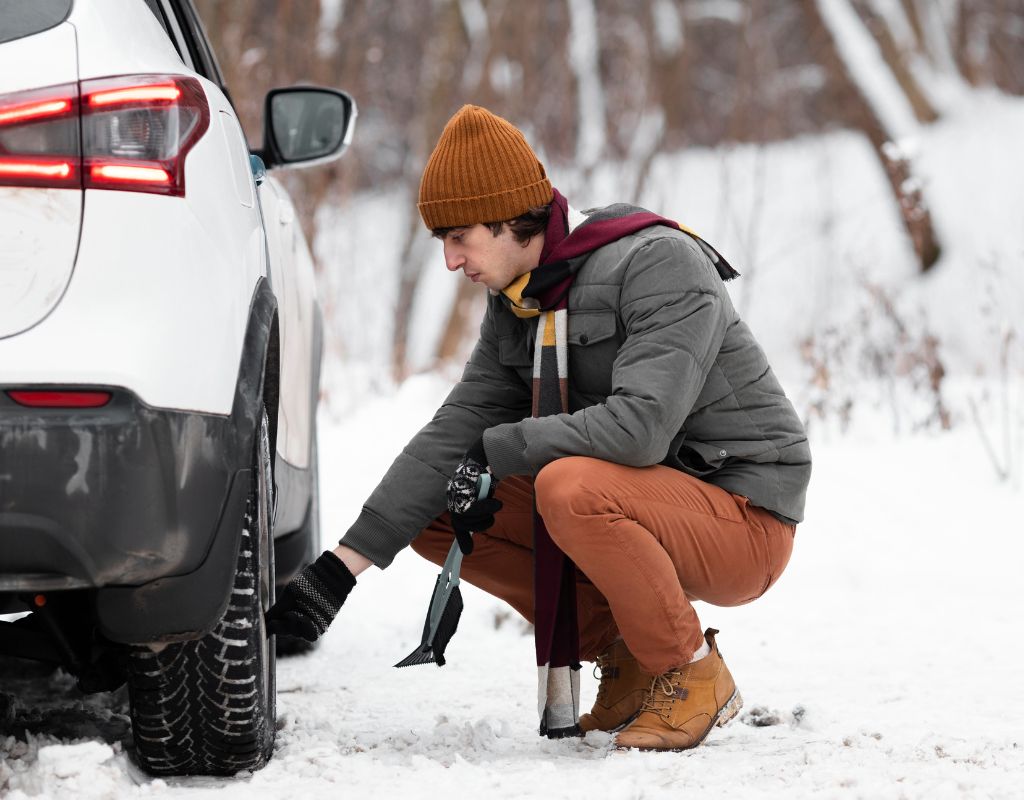 Winter is one of the most demanding seasons for many drivers. Ice and cold temperatures increase the risk of a traffic accident or other collision that can end in disaster. If you want to avoid this, don't forget to prepare for the cold season properly. How to do it? We have practical tips for you.
Winter tires
Winter tires are the basis of safe driving in winter. Their replacement is determined by law, according to which you should have them from November 15 to March 31 if there is a continuous layer of snow, ice, or frost on the road. Subsequently, the law also talks about other details:
"If there is a continuous layer of snow, ice or frost on the road, the driver of a motor vehicle of category M1 and N1 may use such a vehicle in road traffic only if this vehicle is equipped with winter tires marked "M+S" on all axles. MS" or "M & S," or the symbol of a mountain peak with a snowflake or the symbol of a flake in a mountain peak with three peaks; motor vehicles of categories M2, M3, N2, and N3 must be equipped with such tires on at least one of the drive axles between November 15 and March 31."
However, there are also a few exceptions to the provision. They are:
Emergency range, if a spare tire or a tire for the emergency range is mounted on the axle,

Off-road motor vehicle,

A motor vehicle used in the municipality in connection with the performance of tasks based on a contract for performance in the public interest according to a special regulation.
Winter tires are crucial because they have better grip and shorter stopping distances. In addition, they do not mind ice, snow, or frost. However, to be able to provide you with all these benefits, make sure that the tread is sufficiently thick. It should not be thinner than 4 mm in the case of vehicles up to 3.5 tons and 6 mm in the case of vehicles over 3.5 tons.
Snow chains
If you are going through higher places with more snow, take snow chains with you, which can speed up and make it easier to go through certain sections. A traffic sign may also order you to use them. Failure to do so would expose you to the risk of paying a fine.
You should put snow chains on the driven axle before a challenging and problematic place. For example, if you were to do so halfway up the hill, it might be too late, and they might not help you.
Safe driving in winter
Snow and ice are unpredictable. You often don't even notice them on the road. You never know when you will get into a collision and endanger yourself and other road users. Therefore, always drive safely and carefully on the roads.
Driving safety will also be supported by cleaning the vehicle from snow before using it. Shovel the snow from the entire windshield so it does not obstruct your view. In addition, remove it from the roof. When braking, it could slide onto the windshield or endanger other drivers during faster driving.
When removing snow from the windshield and roof, don't forget the registration number, which by law must be legible while driving.
Mandatory winter equipment
In addition to the classic mandatory equipment that follows the law, you should not miss the following accessories in your car during the winter :
ice scraper,

snow blower,

small shovel

warm blanket

lock defroster (carry it with you, don't leave it in the car),

heating seat or mat,

jumper cables.
Proper braking
If it seems to you that the car is skidding, do not panic unnecessarily. Instead, take off the gas and step on the clutch pedal. In this way, you allow the wheels to grip the road surface again. Avoid stepping on the brake pedal. You could make the whole situation worse.
Bridges freeze faster, and roads around the forest, where there is often blown snow, are the most risky sections where you could slip.
Care of liquids
In winter, it is also essential to regularly check the fluids in the car. Ensure you don't miss anything, and use antifreeze that won't freeze even at sub-zero temperatures. If you do not plan to use the car in the winter, change its oil. Old oil may contain soot and unburned fuel residues that could damage the engine.
Also Read : Be Alert When Driving: Public Driving Tips