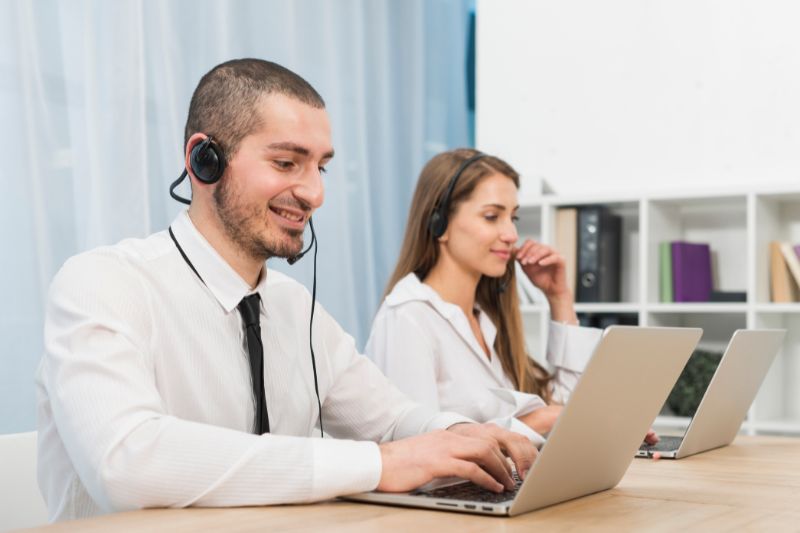 Working in the customer service department of a company requires empathy, patience, communication skills and a high ability to react to crises.
If you want to get a job in a call center or be responsible for customer service, know the 15 most important qualities that your professional profile must have. 
When working in a customer service department, you have to have wood since constant exposure, being in front of the public, pressure for commissions and incentives or wear and tear are part of everyday life. 
If you want to dedicate yourself professionally to this field, consider the 15 most relevant qualities to be hired in a call centers or successfully work in customer service. 
Among other aspects, you must have the ability to deal with crises, strong communication skills, empathy towards the client, close attention, problem-solving or self-control when dealing with unpleasant situations. 
Check the most important requirements for this professional profile and find out if you meet them. The more, the better.
Communicative skills
You must be a good communicator and a people person to take on a job of this nature. Having a vast vocabulary, having a quick mind, handling problems fluently or having persuasive tools will help you in your daily life. 
self-control
It is common to have unpleasant calls or encounters, including insults or rudeness from disrespectful or angry customers. Self-control is essential to facing these difficult situations. 
Ethics and Friendly
The values ​​to be able to provide adequate customer service and also to be in a good work environment imply a collaborative mentality, kindness, respect and friendship. 
Patience
Patience is key to a professional profile facing the public. It is the one that allows you to manage the most complicated clients in a slow and measured way, improve the company's reputation and optimize problem resolution. 
Sociability
You must have them speak in person, via phone, video call, or digital media.
careful attitude
This attitude is highly valued since customers are looking for someone capable of solving their doubts, managing their demands and solving their problems—the more personalized, the better. 
Sensitivity
Compassion and sensitivity are essential in customer service, especially in care, health or dealing with the elderly. 
good problem solving
Mental speed, problem-solving capacity, and constant effort in the face of new solutions or disruptive thinking are essential to tackle the daily problems in this type of work. 
Experience facing the public
Previous experience is significant, and many positions require prior experience with the public, sometimes specifically in sales or a commercial role. 
Industry Knowledge
You must show specific and up-to-date knowledge of your sector. If you show it in the interview, you will increase your possibilities since it is an added value to enrich the treatment you offer to the client. 
phone skills
At a technical level, you must be familiar with how multi-telephone lines work. 
Teamwork
Without coordination and collective effort. There is no good customer service department. Active listening, emotional intelligence and a spirit of collaboration are essential. 
Obedience
Obedience, subordination to relatively rigid mandates and exhaustive knowledge of the regulations are necessary. If you don't like taking orders, this may not be your ideal position. 
Modesty
On many occasions, you will have to swallow your pride and assume the maxim that "the customer is always right". 
Gratitude towards the client
Being grateful and valuing each user who makes your work necessary will help you improve your job and feel more satisfied. 
Also Read : The Most Anticipated PC Games For 2022