Volkner Mobil Performance S: Two In One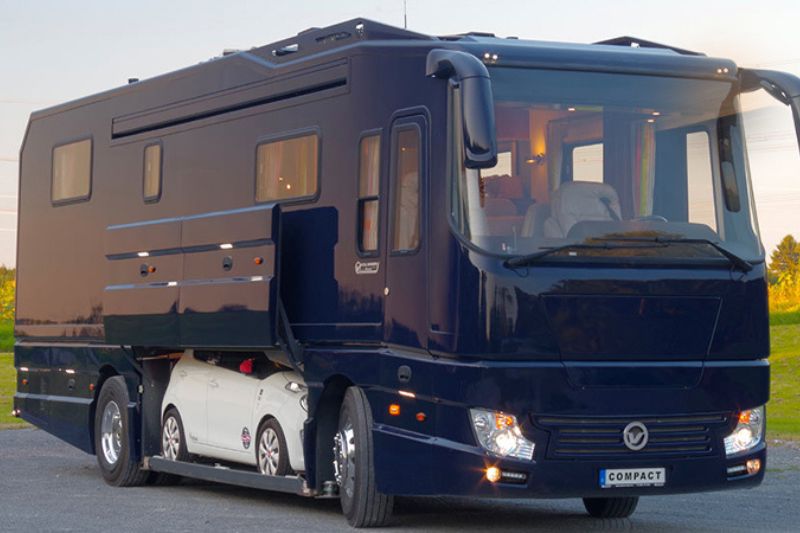 The motorhome is a means of transport that more and more travellers use for their vacations. With it, you can practically carry the house on your back, enjoying spectacular places with closer contact with nature. Although, of course, this has its disadvantages, one of them due to its large size and the difficulty of enjoying roads or entering towns. The solution? Volkner Mobil Performance S.
The Volkner Mobil Performance S allows you to enjoy a mobile home with all the comforts you can imagine. All this without giving up the fun that a sports car can give you on mountain roads or the ease of tourism to enter cities. For the first, you have the same Volkner Mobil Performance S. For the second, a spectacular Porsche 911 Turbo S that is housed in the motorhome. 
And who says a Turbo S also says a BMW i8 or any of these sports cars you can take advantage of every kilometer. Although, of course, the size of the vehicle that can accommodate such a car and continue to offer space to its occupants has measurements close to those of a bus. Specifically, it is 12 meters long, 2.5 meters wide, and reaches a height of 3.85 meters.
Thanks to a system in the garage, this motorhome will deposit your car on the ground without significant problems and then put it back in the compartment. And all this without detracting from any comfort, as we continue to enjoy tables, sofas, television, and built-in speakers. The kitchen is fully equipped with a stove, oven, dishwasher, and oven. 
To move this "mass" without problems, a Volvo origin engine is used that produces a power of 460 CV. We have a tank of no less than 350 liters to ensure proper autonomy. The price starts at no less than 1.6 million euros without the car you see in the image. What a vacation!
Also Read : Elon Musk's Penultimate Prophecy