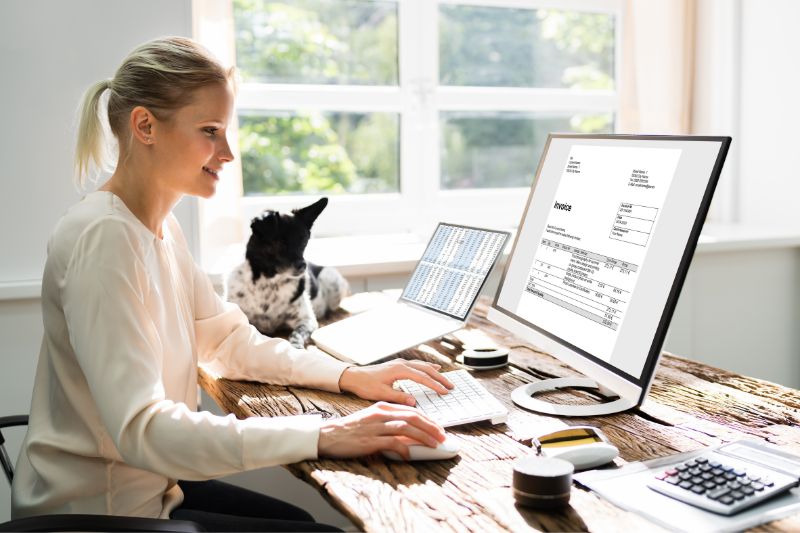 Electronic Invoicing, It is becoming increasingly accurate that the digitization of companies is a fact. Many aids are being launched to motivate companies and freelancers to take a step toward digitization, such as the example of the Digital Kit, which encourages companies and freelancers to go digital. Although there are specific changes in digital transformation, entrepreneurs and freelancers still resist, as with electronic invoicing.
For any entrepreneur, there is only one more significant concern than an unpaid invoice: they do not know how to claim it, and it is nothing other than not knowing how to make an electronic invoice. This today should not be a problem, since below we will offer you everything you need to know about electronic invoicing so as not to get scared.
What is the electronic facture? What is it for?
The electronic invoice can be defined as the digital equivalent of the document that every entrepreneur uses to certify the sale of a product or the contracting of a service. Therefore, it can be stated that it has the same validity and must include the same information as a paper invoice, even though it is issued in electronic format.
New technologies have undergone spectacular advances, and it is that they make our lives easier thanks to automation, agility, and ease of use. Therefore, it can be said that electronic invoicing provides endless advantages that we will detail later.
What is the Invoice?
This is the standard format in which the electronic invoicing law determines that this type of document must be prepared. In practice, every invoice made and sent electronically is an electronic invoice. However, the tax administration chose FacturaE as the format everyone should use when sending electronic invoices.
Some of the characteristics that define the FacturaE format are the following:
It is a text file. It is responsible for defining the fields of the invoices according to the XML format.

The electronic invoice generally does not have to be accompanied by a digital signature. In this case, its format will already be the XML above.

However, invoices whose creditor is the Public Administration require this electronic signature. In this case, the format of these documents will be XSIG, which is precisely the same as the electronic invoice in XML but accompanied by the necessary digital signature.
What types of invoices of this type exist?
Unlike traditional invoices, electronic invoices are straightforward to catalog, and only two criteria are followed to divide them, which are the following:
Structured invoices:

are those that are issued according to a specific format. This means that both the computer software used by the issuer and the receiver are prepared to facilitate the flow of sending and receiving invoices and their management.

Unstructured:

These do not use a standardized format such as XML. Therefore, they can be prepared in Excel, Word, or a billing program that exports them in PDF.
What advantages does the digital invoice present?
Although the only disadvantage that it can present is being left behind in today's highly competitive world in which we live, the use of electronic invoicing by entrepreneurs and freelancers entails many benefits for any company. Here are some of the advantages of this type of billing:
It is more efficient: that is, it is not lost, it is not misplaced, it is not forgotten, and it is accessible at any time and from anywhere in the world.
With its use, the polluting effects of this activity are reduced to their maximum expression. In other words, not a single gram of paper is used. It works only with electricity, which can be generated in a 100% clean way, resorting to the use of renewable energies.
It is cheaper than the traditional one because it is not spent on paper, ink, printers or photocopiers. Nor should you look for storage solutions beyond a hard drive with good capacity or resort to cloud storage services.
Save time and money: thanks to its easy integration with the different management applications. Thus, the time not used in administrative tasks can be dedicated to other more productive ones.
It facilitates the Treasury Plan of any company: the integration of these documents in real-time makes it possible to know, at all times, how much money one has, how much is owed and what the next steps may be, without any fear of being mistaken.
Administrative staff failures, which tend to be expensive, are almost eliminated.
What data should an electronic invoice include?
An electronic invoice must contain the same information as a traditional invoice to be valid. That is why every electronic invoice must include the following fields:
Numeration.

Date of issue.

Fiscal data of the issuer.

Tax data of the client.

Concept.

Tax rate.

Information from the Mercantile Registry (only for companies).
In addition, for the electronic invoice to be valid in the eyes of the law, it must meet a series of requirements :
Both the issuance and receipt of this invoice must occur through electronic devices.

The parties involved must have previously agreed that this will be the channel through which said invoices will be communicated.

The electronic invoice must be accounted for within the management systems used by the companies involved in its use.

The digital invoice format must also be agreed upon between both parties. The Public Administration uses FacturaE (XML or XSIG, depending on whether it has an electronic signature), while the rest of the organizations usually opt for the PDF format.
It is clear that the electronic invoice is here to stay, and, more and more, the self-employed and entrepreneurs are deciding to use it instead of the paper invoice.
Also Read : How To Feel More Comfortable On The Phone