Ecommerce: Everything You Need To Know As a Freelancer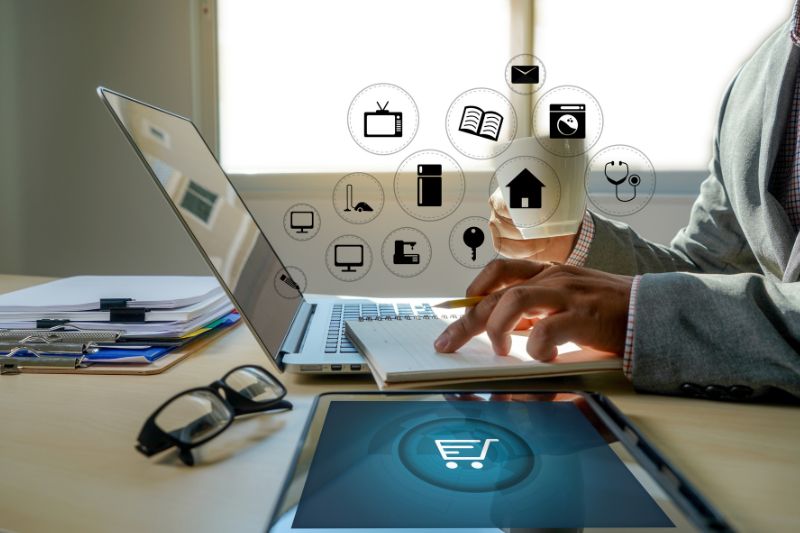 Do you know how eCommerce works? And how is your taxation? We tell you everything you need to know to set up eCommerce as a freelancer.
Because it is not necessary to make significant investments to carry out the business, nor in rental costs for the premises… And because in some cases, it is not even needed to face production and storage costs for the products.
There are plenty of reasons to explain the rise of eCommerce as a business model in recent years. And as an agency specialized in eCommerce, we do not doubt that eCommerce will only grow and grow. 
Just in case you are starting to feel this about eCommerce, in this guide, we will cover a little of the basics and tell you what they are, what types of eCommerce exist, and the first steps to create yours. 
But above all, we will talk about what self-employed people are most concerned about, which we know well: how to register, how to manage VAT for e-commerce and the tax return… that is, everything related to taxation.
Definition and types of eCommerce according to the business model
Electronic commerce would be the translation of the term. Yes, eCommerce is no more (and no less, because it's not easy) than buying and selling products online. In addition, the store that sells products or services online is often known as eCommerce. 
That is why it is easy to see this word referring equally to the concept of the activity you do and the store where you sell.
In addition, eCommerce can be different depending on its business model, and each has its taxation. That's why you must know them, that later you make a small mistake and the Treasury knocks on your door.
The online store with its own products is the same as a physical store with its own products but with online sales. 
Dropshipping: in this type of eCommerce, the product is not created, stored, or sent, but rather a third party does it. To learn more, you can read our guide on dropshipping.
Affiliate commerce: This type of business refers the customer to another store, and they pay a commission when the sale is confirmed. You will have seen it hundreds of times in the case of online stores that redirect the sale to Amazon. 
Membership: periodic subscription (weekly, monthly, bimonthly…). An example is surprise boxes—recurring sales.
marketplace: can be translated as a store of stores or what is the same: a market. It is a website where different vendors sell their products. Again, the clearest example is that of Amazon. 
Services: there are also online businesses for training, consulting, mentoring, etc. Although they do not sell physical products, they can sell services in digital products, so we can also consider these businesses as a type of eCommerce. 
These typologies exist today, but advances in this sector mean eCommerce is constantly emerging.
Differences between eCommerce depend on who operates
Before knowing how to open an eCommerce, the first thing is to see the types of businesses that exist to choose which one best suits your idea and apply the taxation it touches.
Depending on the operation and those involved at the time of the sale, we can distinguish between different types: 
Business-to-Consumer (B2C)
This eCommerce is dedicated to buying and selling between companies and individuals. In this case, services or products are offered for sale through the web. Some examples would be Amazon, El Corte Inglés, or MediaMarkt.
Business-to-Business (B2B)
As its name suggests, B2B eCommerce are online businesses that sell from company to firm. 
This may be due to the nature of the sale, for example, in industrial products or quantities, such as wholesale. 
Business-to-Employee (B2E)
Although this type of business is not the most normal, it also occurs when there is a sale between the company and employees or B2E. 
This sale is made through their intranet, where they include offers or products with special conditions for their workers. 
Business to Administration (B2A)
In this case, the operation occurs when electronic commerce provides a service to the public administration (B2A). 
An example of this relationship is the businesses dedicated to transparency portals for public bodies.
Business-to-Investors (B2I)
Within the not-so-typical cases of electronic commerce, the commercial relationship offers services to investors.
Here we talk about the company-investor relationship, and its acronym is B2I.
Consumer-to-Business (C2B)
Turning around B2C, we find C2B, a business model where the consumer creates value for the business. 
This type of electronic commerce occurs, for example, when an influencer recommends a link to the sale of a product and receives a payment from the company for sharing it. 
Consumer-to-Consumer (C2C)
On the other hand, when selling from client to client, we talk about C2C. 
A clear example would be online sales platforms such as eBay or Wallapop, where individuals themselves are the ones who sell their products and set a price for them, and other individuals are the ones who buy them.
Also Read : This Is Everything You Need To Know About Electronic Invoicing